Frequently Asked Questions
1. Why choose Atkore Vergokan?
Atkore Vergokan is the specialist in cable support systems: cable trays, wire cable trays, cable ladders, floor installations, mounting systems, industrial floor trunking and fire resistance with circuit integrity.
Our strengths:

- High-quality products
- Made in Belgium
- Excellent service and support
- Timely delivery
- 2 to 3 deliveries per week to the Benelux and France
- Daily international transport
- Export to EMEA and APAC
- More than 4800 products available
- Besides standard products also customized products
- Producer of more than 3 million cable support systems annually
- Excellent partner for large projects
- Professional online tools: My Vergokan, ETIM, Fabdis, 2BA, EDI, technical drawings
- Via our two sister companies Vergo Galva and Vergo Coating, we meet every demand for surface treatment
2. How can I receive a quote?
For a quote, please contact our Customer Service via the online chat (green bar on the right), via the customer portal, via email Vergokansales@atkore.com or Vergokancustomerservice@atkore.com.
3. Who can I contact in case of questions?
For all your questions, you can contact our Customer Service Department via the online chat (green bar on the right), on tel. +32 55 31 83 35, by e-mail Vergokansales@atkore.com or Vergokancustomerservice@atkore.com.
For specific questions about a particular project, please contact your Atkore Vergokan representative.
4. How can I consult the stock?
For all your questions about the stock, you can contact our Customer Service Department via the online chat (green bar on the right), via the customer portal, via mail Vergokansales@atkore.com or Vergokancustomerservice@atkore.com, or on the telephone number +32 55 31 83 35.
5. When and how fast can Atkore Vergokan deliver?
Atkore Vergokan does everything in its power to deliver to you as quickly as possible. Stock items can be delivered very quickly. The delivery time for nonstock items depends on the product.
For neighbouring countries there are fixed delivery days, but an express service can always be arranged.
6. Through which channels is Atkore Vergokan available?
Atkore Vergokan products are available from electrical wholesalers and via distributors.
7. Where can I find a library of specifications, brochures and technical information?
In the Download Center, under the heading 'Service & Support', you can download specification texts, technical info, the catalogue, brochures, info on fire resistance, etc.
8. Where can I find certificates?
Under the heading 'Service & Support', you will find a number of general certificates, electrical continuity certificates and fire resistance certificates. If you cannot find what you are looking for, please contact your Atkore Vergokan representative.
9. Where can I find technical drawings?
In the 'Service and Support' section you can request technical drawings.
You can also register on the Partnerzone. Once you have access to the Partnerzone you are free to consult all technical drawings: DWG, STEP, REVIT, commercial drawings, assembly instructions.
10. Are instructional videos available?
Are you or your installer not sure how to install a clickable cable tray, a wire cable tray or a cable ladder? Or how to install a low-profile apparatus cup into a watertight hinged cover ?
In our Service & Support section, you will find the Atkore Vergokan Academy with numerous e-learning videos that will explain to you in a clear and concise manner how to install the product.
You can also find all e-learning videos on our Youtube channel.
11. Cable trays, wire cable trays or ladders: when do I use which type?
Cable trays are the perfect solution for hiding all kinds of wires and cables. Cable trays not only have an aesthetic function by ensuring that the jumble of cables is not visible, they also provide protection for cables, if necessary also in a humid environment. Our cable trays are available in various widths, heights and plate thicknesses, with perforations or in a closed version, which may or may not be insertable. As far as ease of use is concerned, our clickable KBSCL is highly recommended. Moreover, it is also available in zinc magnesium, which ensures excellent corrosion protection.
Wire cable trays are particularly interesting in small rooms with a suspended ceiling or a raised floor, such as offices and data centers. The cables are easy to fix and also the entry and exit of the cables is easy due to the fine wire pattern. In addition, the cooling is better. With bolt cutters, the wire cable trays can be cut to the desired length. In addition, our zinc aluminum wire cable tray (ZAVFUL) offers additional protection against corrosion.
If more cable weight needs to be carried, on long routes and for large support distances use cable ladders. Atkore Vergokan offers a wide range of cable ladders. From light to heavy duty ladders for large spans.Our uniform cable ladder system is innovative, high-performance and extremely flexible. Length, width and rung spacing can vary according to your needs. All types are used in a wide range of electrical installations in industry, utility and infrastructure projects.
Our cable ladders meet all the well-known Atkore Vergokan quality requirements. An absolute priority is given to safety, durability and reliability. Rounded corners and rungs integrated into the rails guarantee safe assembly and ensure that the cables are not damaged.
12. What are the advantages of the clickable KBSCL?
Our latest cable tray is the clickable KBSCL FUSION. These cable trays no longer need to be screwed together but simply click into each other. This saves 15% of the time needed for the installation and provides reliability, strength and load-bearing capacity which are at least equal to those of the screwed version. In addition, the cable trays automatically align when clicked together. Moreover, the zinc magnesium KBSCL offers optimum protection against corrosion.
- CLICKABLE
Revolutionary insert and click system. The cable trays automatically click when they are interlocked. No more nuts, bolts, joining plates or clips are needed.

- FAST
Two elements are interlocked until you hear a click. The additional fixing step with nuts or bolts is not necessary. If you still want to use bolts then the new alignment will also make it very fast. Due to the precise alignment between two consecutive cable trays, a laser alignment is no longer necessary on longer routes.

- STRONG
The load diagram of the KBSCL is similar to that of our KBSI cable trays with screw connection.

- RELIABLE
You may rest assured that the cable trays will remain securely fastened while you are mounting them. Do you still want to apply nuts, bolts or joining plates? That's possible, but the maximum permissible load is already reached by clicking.

- ADVANTAGES
No fittings or tools are required. What's more, 'inserting and clicking' is very fast and only one installer is required. So you save three times: on parts, on manpower and on time.

- HIGH STANDARD
Available in various versions: pre-galvanized steel (sendzimir), zinc magnesium, powder coating and duplex. All guarantee a durable result in any specific context. Moreover, these cable trays are compatible with our fittings.
13. What is Unistrut and why choose Unistrut?
Unistrut has been the leading supplier of steel C-sections for supporting structures for more than 90 years. Unistrut's products and services are synonymous with technical excellence and reliability worldwide. C-sections and assembly attachments from Unistrut offer total flexibility in designing and building assemblies for modular assembly systems. Unistrut's products are available in a variety of materials and finishes. These finishes offer varying degrees of corrosion protection for use in a variety of environments.
Unistrut product overview.
14. How do I choose the correct ceiling or wall fixing?
This depends on the weight and the intended support distance. The greater the support distance, the more weight the suspension must be able to support. The load diagram of the cable tray, wire cable tray or cable ladder in question is also important here. This diagram indicates the maximum allowable load depending on the support distance. Both the maximum load of the wall brackets, the maximum moment of the suspension supports and the load diagrams can be found in the product info.
15. What is an equipotential bonding?
An equipotential bonding (EQ) is an electrical cable or conductor between metal parts (such as cable trays or cable ladders) that can provide additional safety in the installation by, for example, establishing an earth connection in the entire cable support system.
Electrically conductive materials that are connected to each other (such as cable trays, cable ladders and wire cable trays) have the same potential and thus form a safe situation. All our cable trays and ladders have an equipotential certificate (EQ test).
They must be connected at least at one point to an earth conductor. Insulated parts (e.g. by painting or plastification) must be connected to each other with a separate conductor.
16. How do I interpret a load diagram?
The load diagram is a graph showing the maximum permissible evenly distributed load for multiple load support. It complies with the standard IEC 61537 with connection in the middle of the support distance and end span = 0,8 x span.
F = max. permissible load (daN/m)
L = support distance (m)
E.g. L/100 = max. deflection (m)
17. What is the minimum screed height for a concrete floor systems & hinged cover?
The minimum screed height for a concrete floor is 65 mm.
The maximum screed height is 298 mm.
18. How do I choose the correct hinged cover?
The choice of the hinged cover depends on
- the type of floor: concrete or raised
- the floor finish: carpet, linoleum, parquet, tile, vinyl, epoxy
- the cleaning: dry or wet
- the number of cups needed
- the aesthetic preference: round, square, rectangular
You can find all the information in our brochure on floor systems.
19. How do I choose the right accessory for the hinged cover?
To determine the right accessory, it is important to decide beforehand how many modules (sockets) you wish to mount.
An example:
Per square hinged cover, you have room for three universal appliance sockets TSBO.
Per apparatus box TSBO9.45 there is place for 4 sockets + 1 switch or 9 modules 22.5mm (so 27 modules per square hinged cover).
At the location where there is no instrument box, place a GBP blind plate. Where there is an apparatus box, you can cover the apparatus box with the bottom plate ADPUB.
If the screed height is limited (6-8cm), you can choose a low profile apparatus box, the TSBL. With this apparatus cup, there is no extra height loss and you can place the outlets at an angle so that the hinged cover can always be closed. Hereby the space of one TSBO is lost and you have space for less sockets or modules 45.45.
You will find all our accessories in the last chapter of the brochure on floor systems.
20. What is fire resistance?
Human safety can only be guaranteed in the event of a fire if all the required safety systems continue to function. Cable support systems with fire resistance maintain their support function in the event of fire and, in doing so, contribute to the continued operation of a facility.
Atkore Vergokan is able to offer you systems that have withstood the severe E30-E60-E90 tests in this specialist field, consisting of standard and non-standard load-bearing structures. This means that our fire resistance systems will maintain the electrical system for 30, 60 or 90 minutes in the event of a fire. Our products are in accordance with DIN 4102 part 12. What is more, these systems are also particularly easy to install.
21. What certificates does the installer need for fire restistance?
This depends on the market (e.g. German-speaking markets: standard supporting structures) and the following:
- Cable tray or cable ladder?
- Wall or ceiling mounting?
Click here and navigate with the arrow of the dropdown menu until you reach the desired certificate.
22. Which certificates for fire resistance can Atkore Vergokan provide?
Certificates are available for both cable trays and cable ladders:
- Ceiling mounting and wall mounting
- With or without threaded rod (cable ladders only with threaded rod)
- Standard or non-standard support construction
- Vertical mounting
Certificates are also available for Cable clamps H.
23. How many cables can go into a type H cable clamp for fire resistance?
In our cable clamps type H only one cable per clamp is allowed.
A deviation, e.g. a bundling of two or three data cables, is possible on condition that you have this approved and recorded in the site report by the inspection body.
24. Which surface treatment to choose for a successful result?
The service life of cable support systems depends on the environment in which they are placed. Therefore, it is important to do a thorough investigation of location, humidity, salinity, air pollution, hygiene regulations, etc. beforehand to determine the corrosion class. The corrosion class will help you choose the appropriate material and surface treatment.
The table below shows you the different environmental corrosion classes with the recommended surface treatment.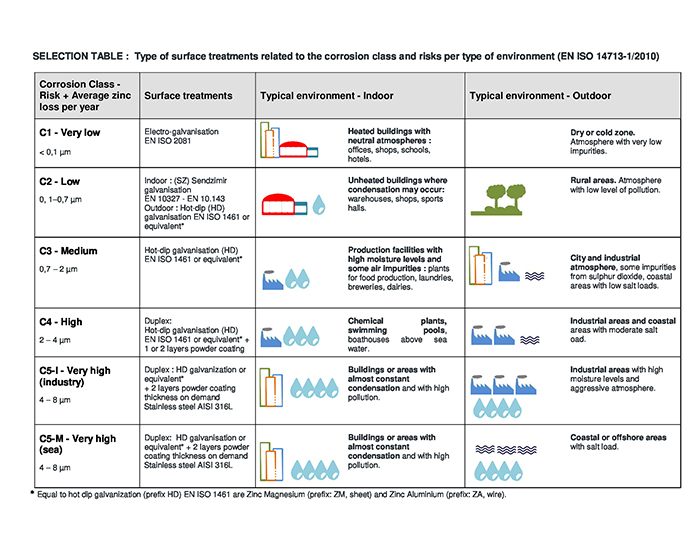 25. Why zinc magnesium or zinc aluminum instead of hot-dip?
Zinc magnesium and zinc aluminum are metal coatings that provide excellent protection against corrosion. Thanks to their unique composition, these coatings provide very good cutting edge protection (self-healing effect). In addition, they are environmentally friendly (less use of zinc) and less expensive than hot-dip or galvanizing. Zinc magnesium and zinc aluminum are therefore the perfect choice for various indoor and outdoor applications.